We're not really back into the swing of things, after getting back from Colorado. This cold that we have is running its course, and nearly everyone has been lucky enough to get at least a touch of it. With Mom and me both sick at the same time, we're not really up to cooking like usual. Besides, coming back from an almost 2 week vacation, where the only finger we lifted was to iron clothes...it's been a jolt back into reality here! So, readers, meet BBQ Beef Dip.
Yesterday morning, I asked the guys what they wanted for supper. (Mom's been in the bed a lot the last few days with her cold.) Dave suggested this beef dip, and it's easy, fast, and, let's face it, pretty darn convenient. There's practically nothing to do to make it. Considering our situation, that's exactly what I needed to make me happy.
So, here you are. I started out by browning 2 pounds of ground beef, seasoning with Tony Chachere's. You can season with whatever you'd like, but please, please do season! I just don't get it when I read a recipe with meat in it, and it says nothing about seasoning! So, whether you use salt and pepper, Tony's, or whatever you like, it doesn't really matter...
just season!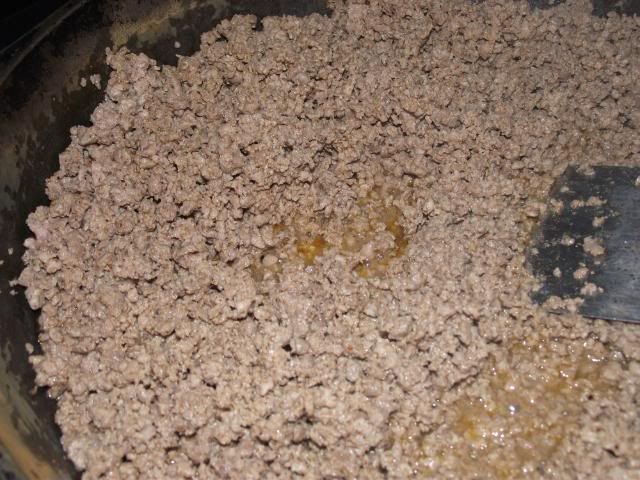 After it's cooked, you can drain the yummy tastiness grease off, if you must. I didn't...this is the steer we raised, and I didn't see any reason to drain off the flavor. :)
You need to drain 2 large (28 oz) cans of petite diced tomatoes, and add them to the meat.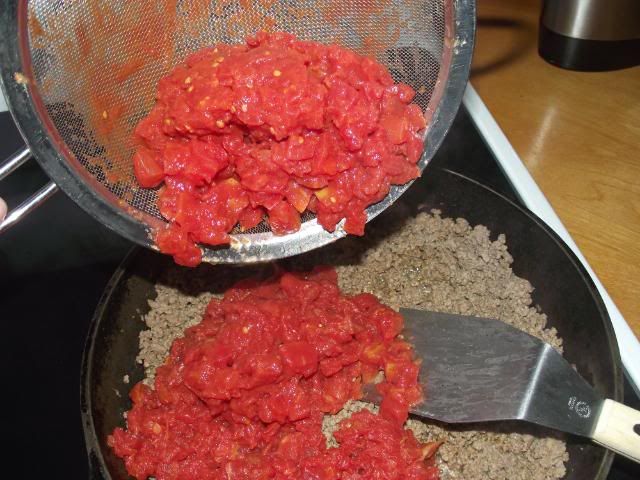 Next comes 2 cups of BBQ sauce. It would better if you had homemade, but when wouldn't it be better to have homemade anything?! I didn't...I used store-bought BBQ sauce. And don't even try to find a brand that has nothing bad for you in it...it ain't gonna happen. At least not at our store!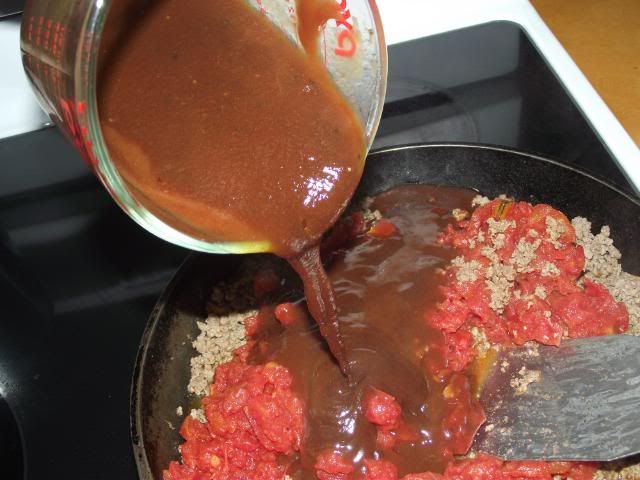 Add 2 tablespoons...or so...more or less...of Dijon mustard. As you can see, I didn't measure! As you can also see, I missed the action shot of adding the mustard. I'm still not quite sure how to time everything right when my camera doesn't actually shoot when I pull the trigger....or mash the button.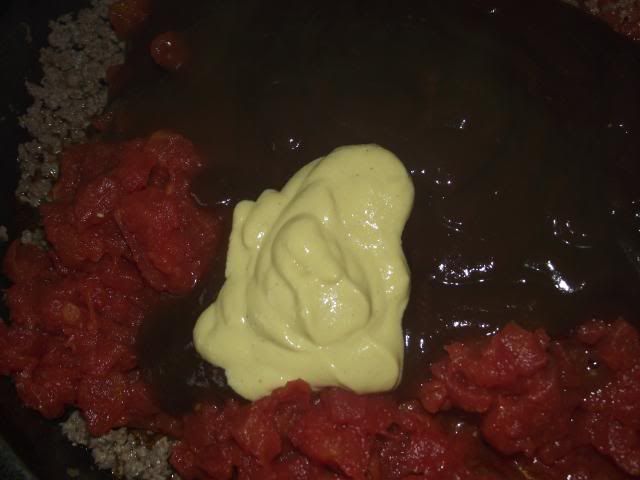 And that's it! I mixed it up and let it simmer for a little while while I got the rest of the fixins ready. It thickens up a bit that way, too...any juice in the tomatoes can evaporate, etc.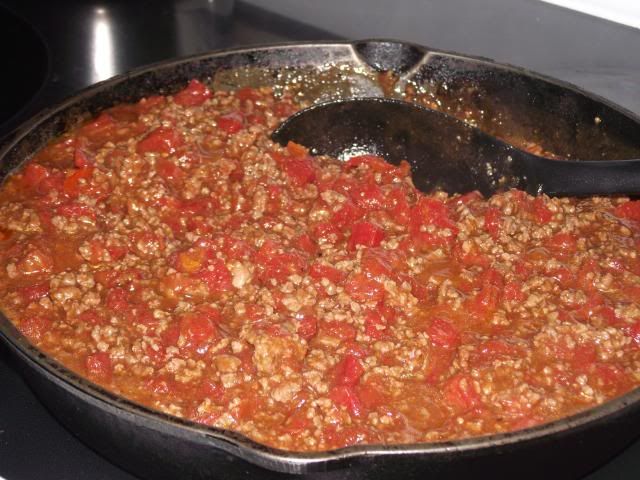 I cut up green onions... (By the way, I took 11 pictures of cut green onions, trying to get one I was happy with. I need HELP!)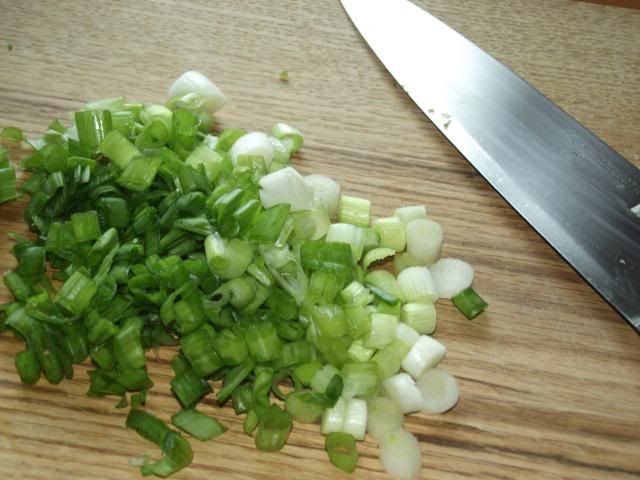 I grated some cheese... This is cheddar, minus the annatto. With annatto works, too.
And now it's simmered for a little while and it's a little thicker, and Dad's hungry!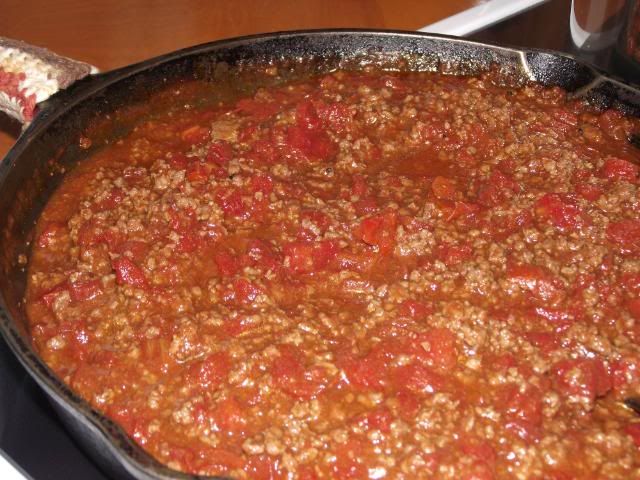 We served the dip with tortilla chips, green onions, cheese, jalapenos, and sour cream...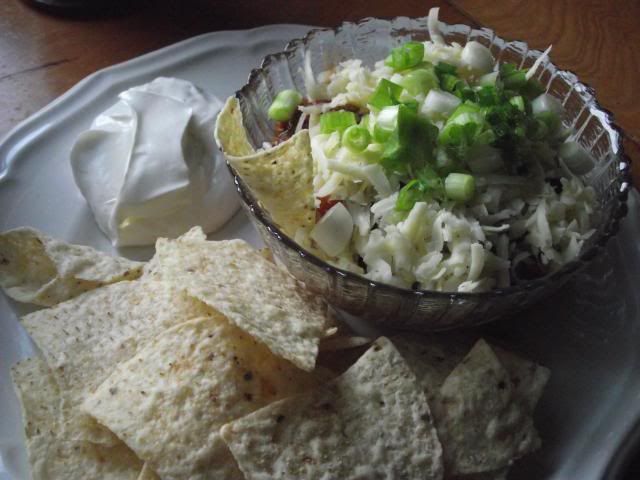 It's yummy!