Gee, I am awesome at this naming post business! Who wouldn't want to read "Toenails and More?"
So, this morning, I needed to take some trash to the dump and swing by Walmart. I was getting ready to go, and decided to paint my toenails. (Aren't y'all glad I share everything with y'all?) As I grabbed the nail polish, Rylie (who follows me absolutely everywhere and imitates everything I do or say :) ) said something so that I understood she wanted some, too. I can't remember how she said it, but she did...in no uncertain terms. So, I sat down, pulled her up in my lap, and got busy. She was perfect, and so very excited about her pretty toes.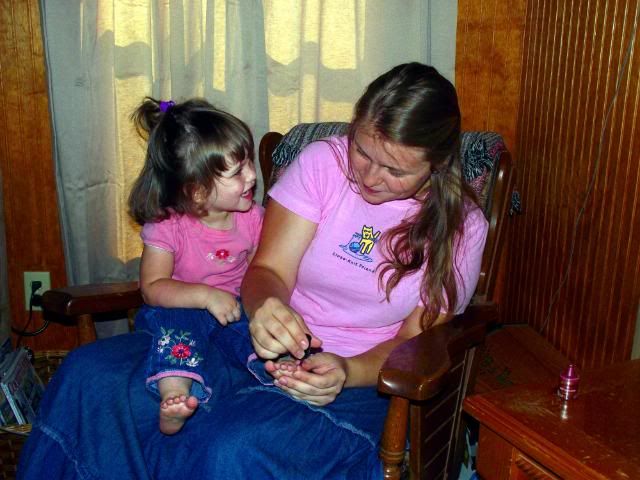 Would you believe that I dressed this morning an hour before she got here, and her mom dressed her the same? I didn't think so. I just know everyone we saw today thought we dressed alike on purpose! :)
We dropped off our trash and headed to Walmart, where we walked around verrry slowly. :) I was just getting a couple things, so I let her walk most of the time. We picked up a couple pieces of fabric, and she thuoght she was something, carrying the fabric around the store! We had a lot of fun.
It's amazing how much she soaks in. Like I said, she repeats everything I say or do...scary, sometimes! When she was just starting to talk a little, I sang "Do you know you are my sunshine" to her one day, and she started saying "sunshine." So now a few times every day, out of the clear blue, she'll just grin up at me and say "sunshine!" It's sooo cute!
This afternoon, I made my jewelweed cream. I think it turned out pretty good...it's not like you can taste it, though! Actually, you could, and that's the beauty of it...but I didn't want to. Smells a little like medical grass...wonder why?
I made 26 tins...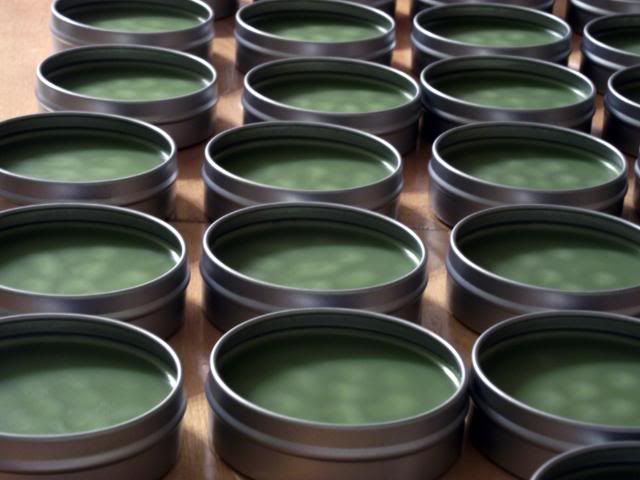 I think I'll probably end up printing some labels for the tins and putting them for sale on the
website
. There's no way we'll use 26 tins (2 oz each) anytime this century! I was texting Mom today while I was making it, and said something about the amount of some ingredient I was using. So she asked how much I was making and I told her "enough to last an army in the Amazon for 7 years!" It sounded to me like an army in the Amazon would get bit up pretty bad, but I didn't check any facts on that... /:)
I made chicken nachos for supper...a new recipe I've never made before. I took pictures and I'll be getting a recipe posted pretty soon. It turned out pretty good, I thought...course, it was mexican, and I love anything mexican. Sneak peak...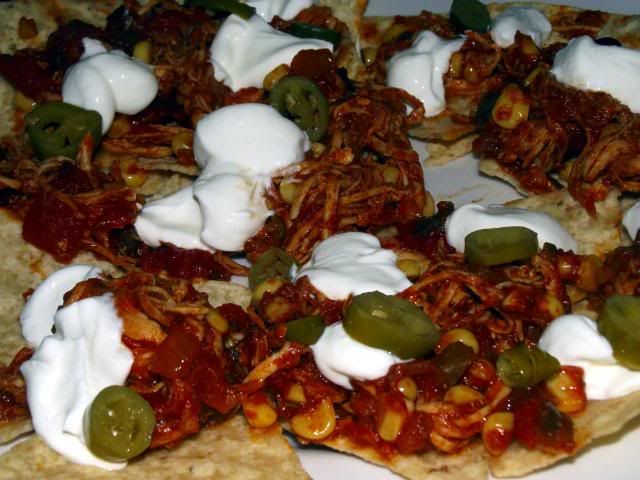 I think I'm having a problem. I kinda sorta love the way my pictures turn out when I edit them just a tad. Help me...
I'm becoming one of them
.... It's just so easy and fast...I'm using GIMP 2 and all you do is click the auto white balance button and the auto color enhance button, and voila! A much nicer picture.
Like I needed blogging to take up more time...