So, we spent all day Saturday at the bluegrass festival. We'd seen our friends, The Lindseys, at the festival Friday night, talked some (I talked girl talk...it's been a while since I've done that...lol) and we looked forward to hanging out some more Saturday. They played in the band competition and won first, and I think that's all the pictures I got!
As I mentioned before, Titus won the 12 and under banjo competition Saturday. Don't tell him (ok, you can...I did) but I didn't think he was ready to play there. I honestly didn't think he'd win, after hearing the two other competitors. Of course, I wasn't backstage saying "gee...they're really good...you don't stand a chance!" See, the thing is, Titus played this competition two years ago, had one opponent, and won. Last year, he had no opponents, and, of course, won. So, this year, he didn't even prepare. He decided about a week ahead of time that he was going to play, and didn't work hard at getting ready, at all. He played songs he's played for ages, simple songs he learned years ago. I've always played the guitar with him at these competitions, but as I practiced with him last week, I just couldn't play with him. His timing isn't the greatest, and that's really obvious when I'm trying to play with him. So, I told him I couldn't play with him, and he said, "yeah, it's easier to play if you don't play anyway." Gee, thanks, bud.
Since I always was there with him before he played, I went backstage with him, made him play his songs for me several times, pointed out areas where he was messing up, and finally, made him play his goofy Ron Stewart licks and intros he's picked up, to loosen up. I figured if I could make him feel like he's here at home, goofing off with silly stuff he's made up, stuff he enjoys playing, he'd be more comfortable when it was time to play.
So, we listened. We listened to this other kid who was warming up, and I was thinking "um...this is not good." Titus said "I'm hoping he's 13..." We heard the announcer welcoming the judges, and telling the audience how the judges were judging. I knew we'd be close as far as talent goes, so I told Titus to make the audience love him...to be personable. That was one of the things the judges were looking for, and while that doesn't earn as many points as the playing itself, it still counts for something. Titus was last of the three competitors to play, so we listened to the others play. I made Titus stop playing and listen to them...I told him he had to listen to them and then do better. They weren't saying anything at all before playing, so I told him again to talk to the folks!
"Our next contestant will be Titus Custer!" Yikes. Titus was nervous...he kept saying he couldn't beat the others and that sort of thing. But he went up there, talked and played, and everybody loved him. Even the judges. After hearing the other banjo players, he said he was surprised he won first.
He also said he wasn't playing next year, in the 13 and over. I'm planning on working with him and fixing his timing, making him play more difficult songs, and, in general, being the overbearing older sister who makes him succeed.
Ok, the Lindseys played in the band competition...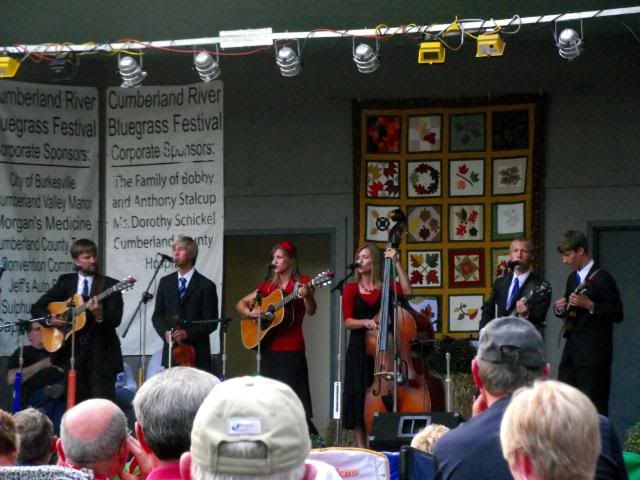 Won first place...
So then they got to play a set later on in the evening. Here they are all lined up, with Ben introducing everyone. They were supposed to get in order by age...apparently Mr. and Mrs. Lindsey are in the same boat my mom and dad are in!
Now, just various pictures of them playing. I took a gazillion, and only got a million good ones. Here are a few: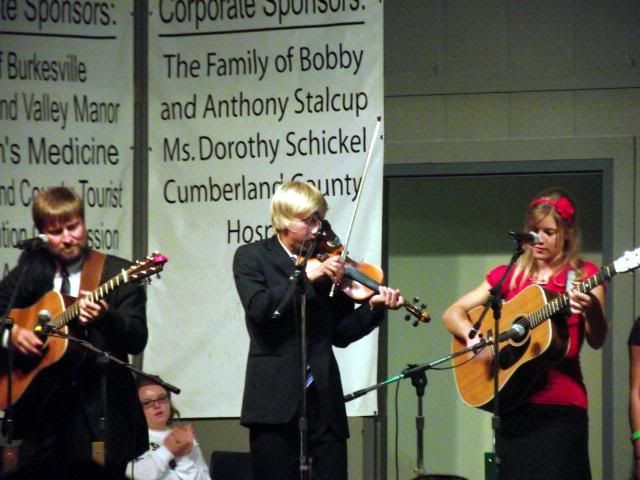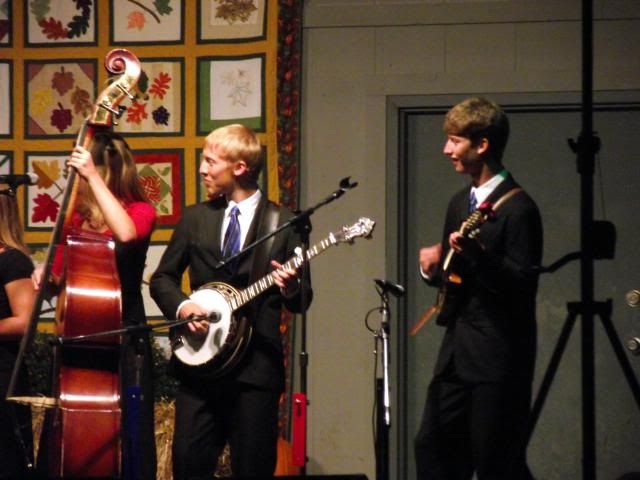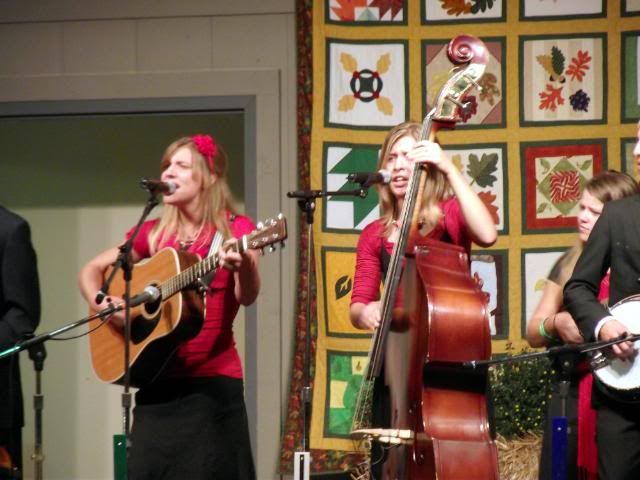 I tried to get a panorama, since that's the only way I could zoom in and get everyone included, but panoramas only work with inanimate objects. See...there are two Elisabeths!
And that's it! It was tons of fun, the Lindseys sounded great, and it was good to see them again.
That's all for now...talk to y'all later!