Originally written and posted June 21, 2010. I was going to post the circle skirt with ruffle tutorial, but it links to this post. So, I'm posting this one first.
I designed and made a new skirt Saturday night, and I actually finished it on Sunday morning, just in time to wear it to church! It's a circle skirt with a ruffle all the way around. If you want, I can make a tutorial sort of thing…just let me know if y'all want that sometime! I bought this fabric back in December, when we were in Florida. I LOVE the fabric, and I was waiting to have some brilliant design idea to use with it. The brilliant design idea never came, so I stuck with this idea. I think I like it…it combines interesting features, I think. It's a special fabric, a little shimmery, and pretty fancy. But the design is more of a prairie design. So it combines fancy fabric and old-fashioned design. It's different..like me! :)
Sunday afternoon, I drug Dave outside to get some pictures of the new skirt. We went down to the creek and I really like a lot of the pictures we got. I will warn you…there are quite a few, and I'm putting most of them up. Just wait until you see the silly ones!
I really like the way it twirls…you won't see me doing this at church, but it's fun down at the creek! And can someone please tell me why I look like a peg-leg sailor??? What happened??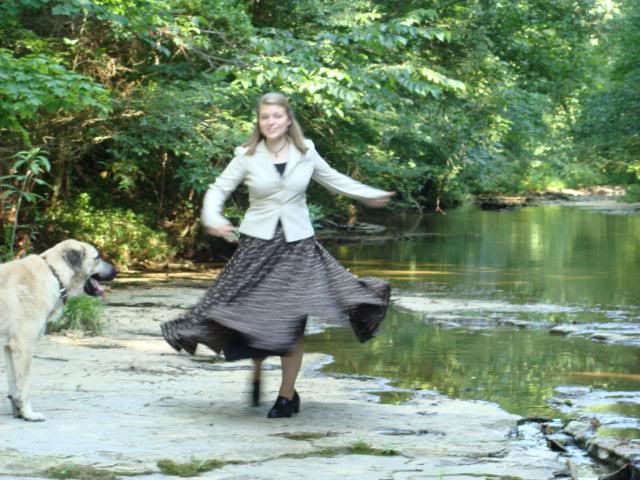 "Fine then…I'll just leave."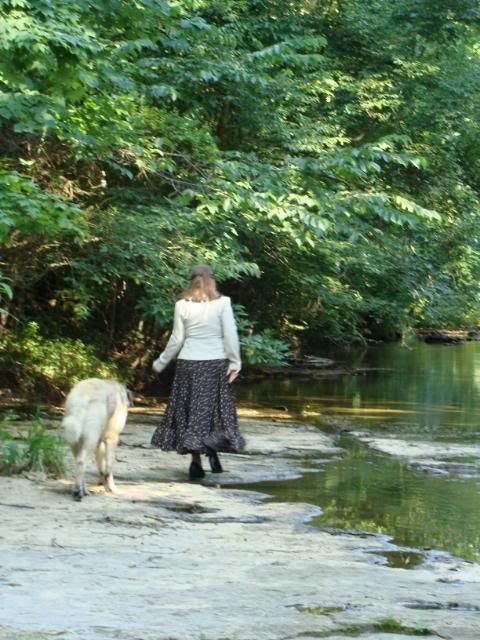 "Ok…I'm coming back."
I wanted some pictures sitting down in the skirt, but when I tried to sit, Regal thought I wanted to play. Here I am trying to make him calm down, and not grab my shirt and pull me away!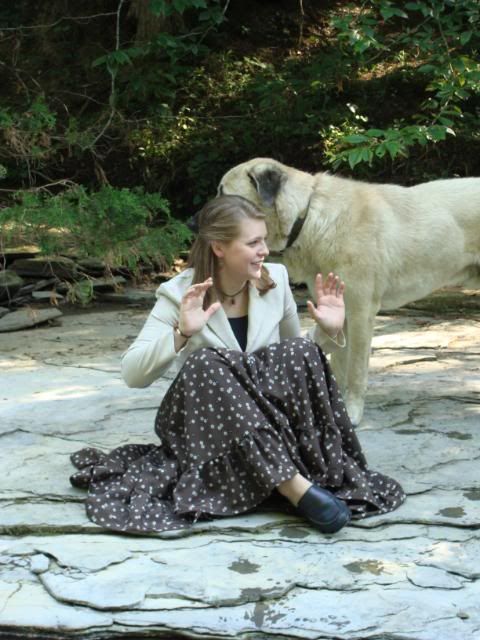 He finally calmed down and sat behind me.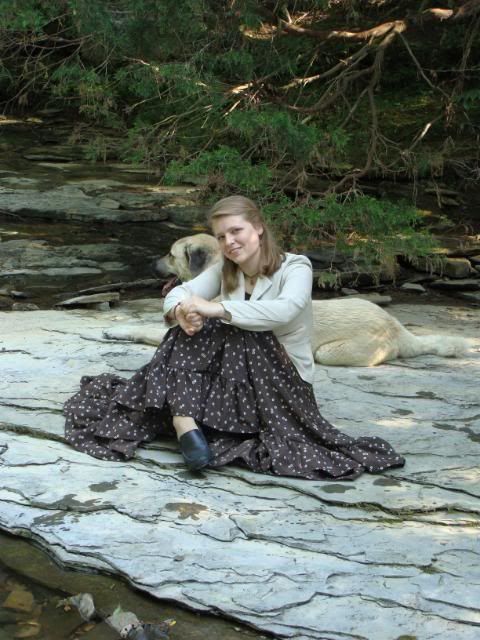 Dave said I looked like I smelled something nasty in this one…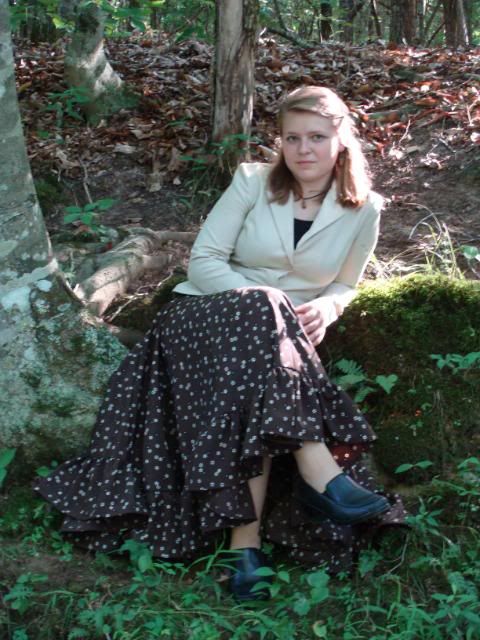 At which point I busted out laughing…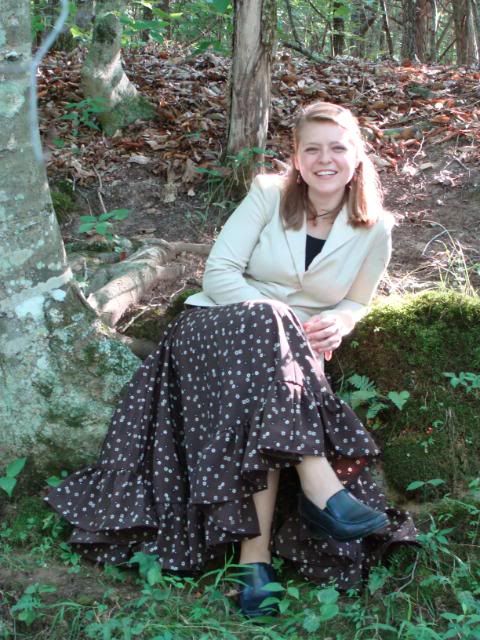 And then managed to compose myself enough to get a decent picture… See the initials on the tree? We'd never seen them before…I wonder who did that and how long ago it was?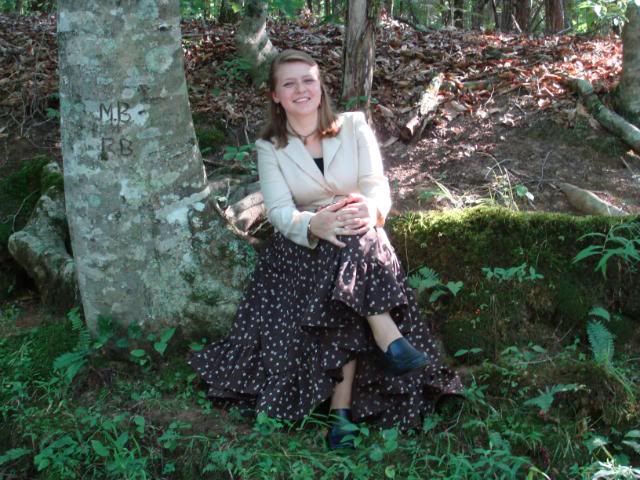 "I'm going to go sit on that stump over there."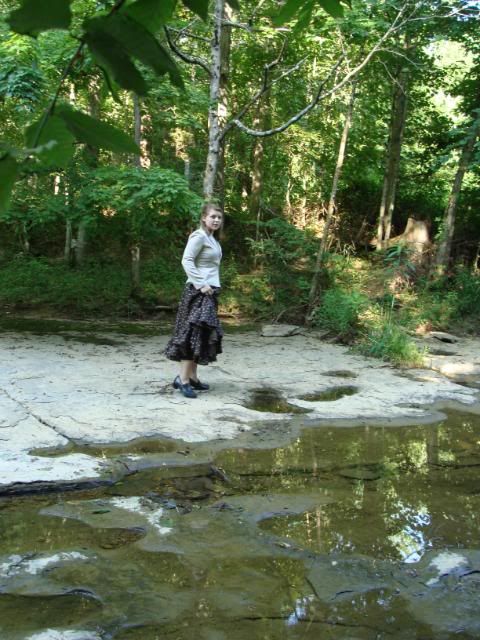 "Nevermind…there are spiderwebs."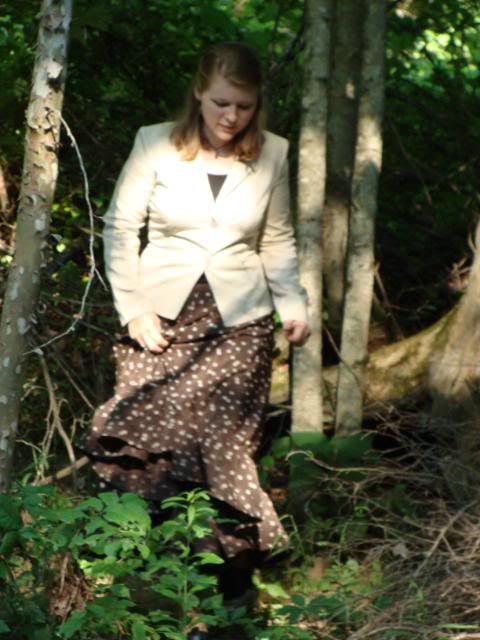 Close-up of the skirt…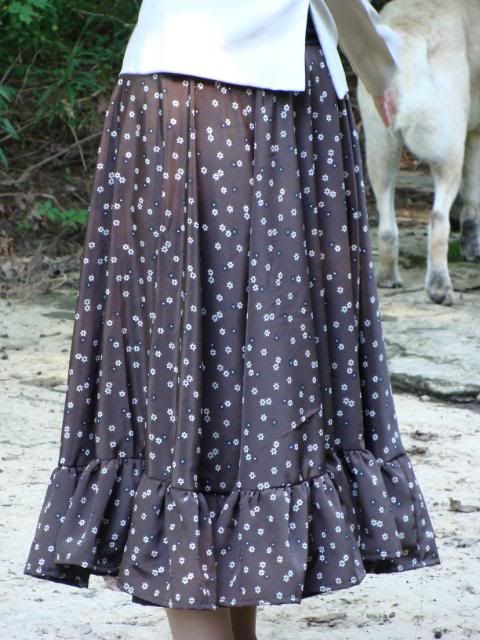 Ok, I am in LOVE with the lighting in these next few shots! Who here, besides me, thinks that Dave should give up on blacksmithing and go into photography? What do y'all think?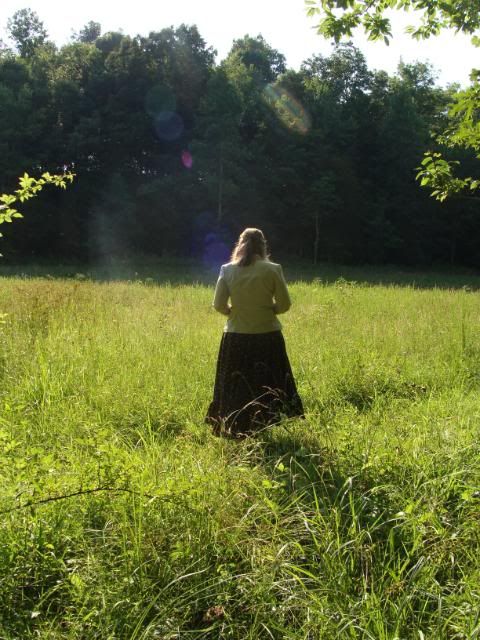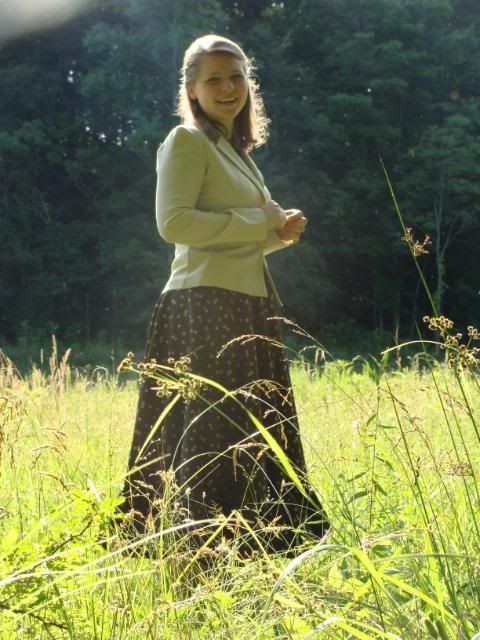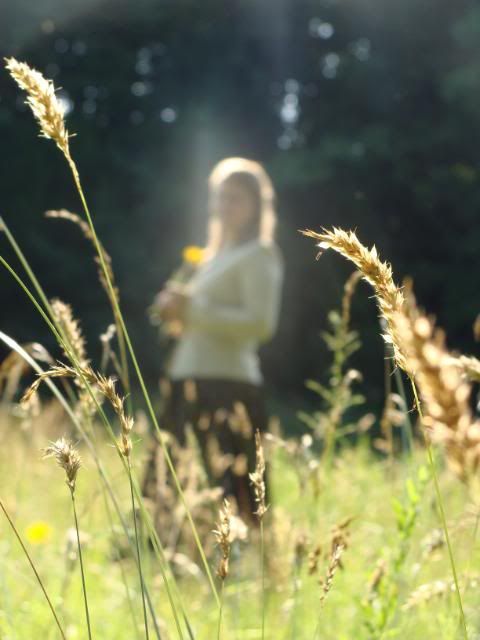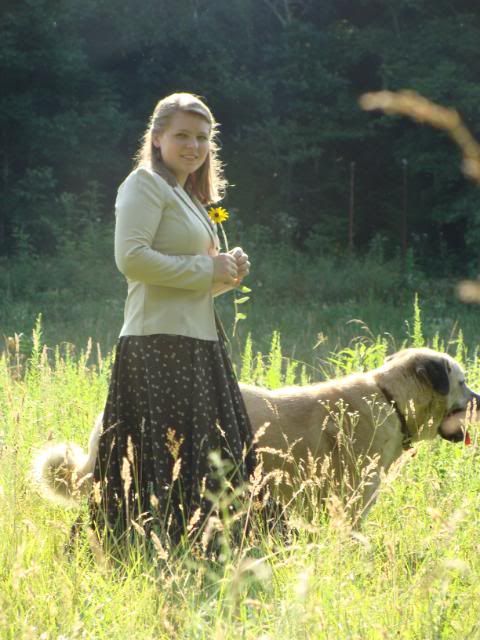 Close-up of the fabric…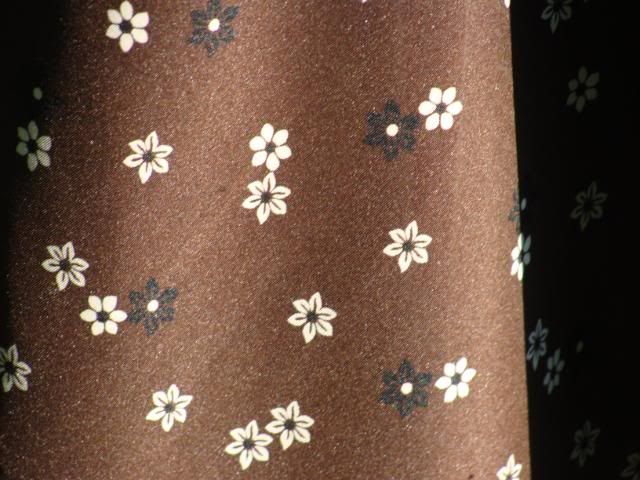 A sort of funny face…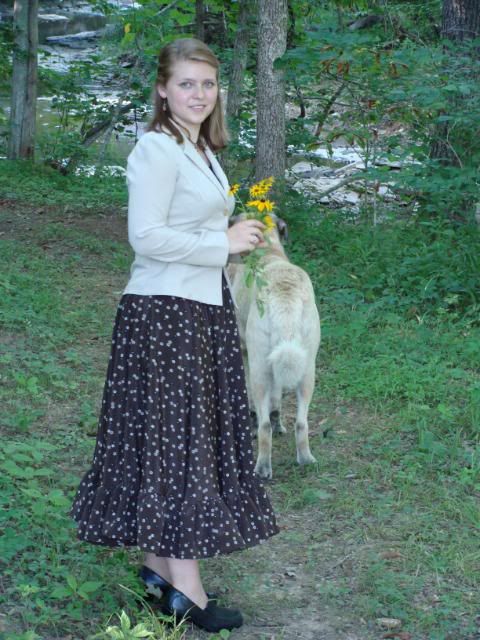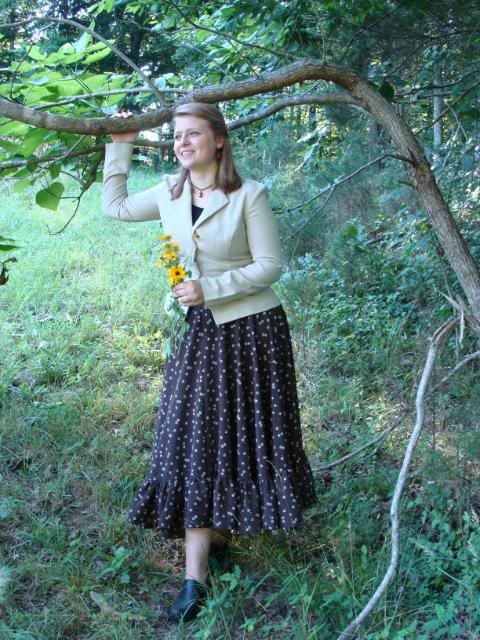 Now, I have a really goofy looking smile on right here, but look at the eyes! I was amazed at how something made my eyes pop out like this! Wish I knew what it was…I'd do it more often! Maybe it's the green behind me?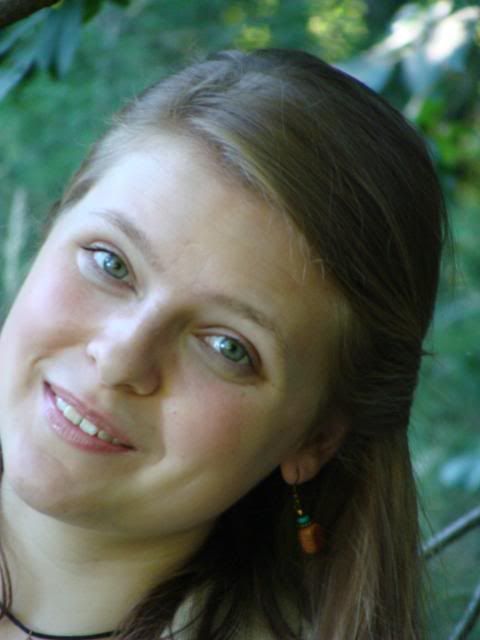 I really like this one…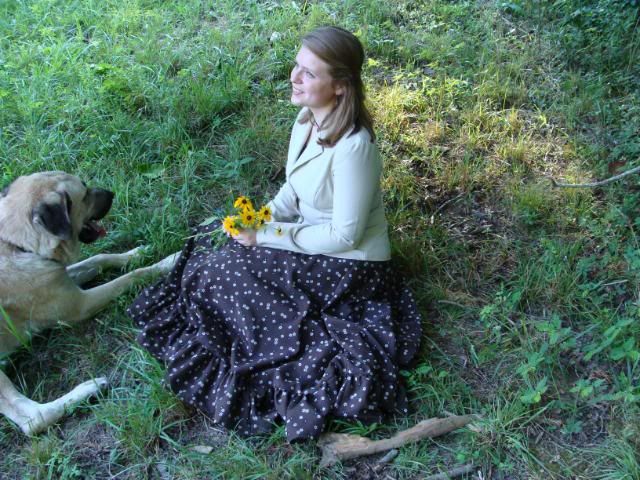 "It's HIS fault!"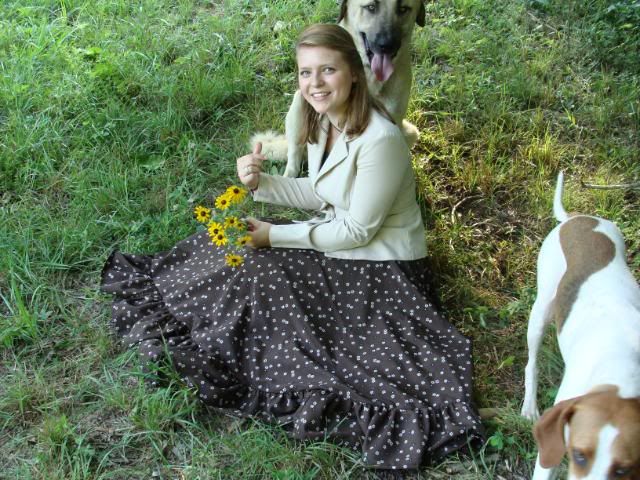 He's bigger than I am…or at least, his head is!
And going back to the house now…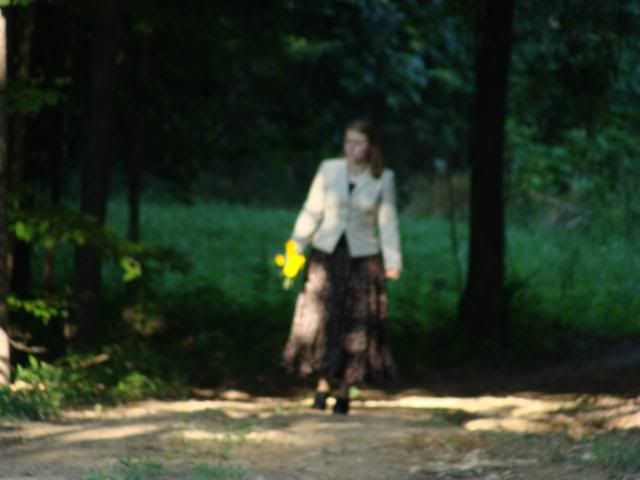 Can you see what a crazy face I'm making here? Dave doesn't tell me when he's going to take the pictures…he just sits way in front of me and shoots. Sooo..we end up capturing funny faces sometimes!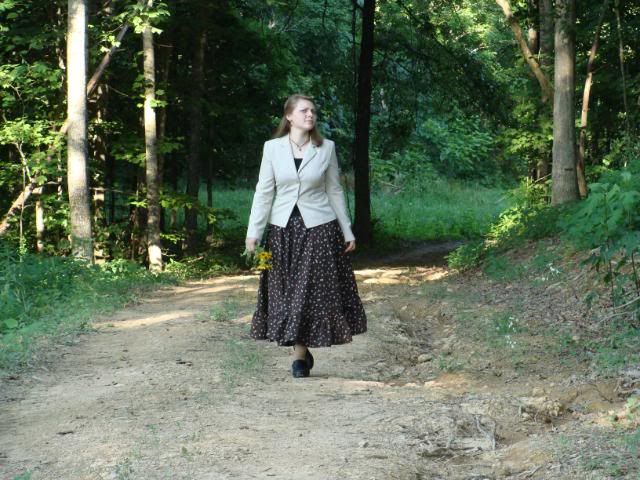 And the last one (I know you're thinking "finally!")
Ok, so I usually don't get pictures of myself on here, since I'm always the one behind the camera, so this healthy dose should last a while!
What do y'all think?
~Kayla
P.S. Looking back at this now, I'd choose a different skirt design. It's funny how clothing tastes evolve and mature, I guess, over just a year and a half or so. I'd design more of a streamlined, slimmer silhouette for this fabric...would be more flatttering, too. No ruffle, either...the fabric should be highlighted, not so much a fancy design with excessive usage of fabric. :)