Originally written and posted June 10, 2010. I made this for supper last night, so I pulled out the archived post. The only differences were...I used ground beef instead of ground pork, and I use white egg noodles instead of rice rotini. I'm still carb-free, for the most part (I usually cheat a bit on the weekends,) and I ate an apple with peanut butter instead of this, my favorite meal.
I LOVE Beef Stroganoff! I mean, it's probably one of my favorite meals! Well, maybe after homemade pizza…oh, or lasagna…or maybe a good ol' pork roast with potatoes…ok, so I have a lot of favorite meals! Be that as it may, today I'm saying that Beef Stroganoff is my favorite, and don't you want to know how to make my favorite meal? You know, just in case I stop by sometime…you'll know what I'll like to eat! (Really, if I'm coming over, I'll eat anything…I'm not a picky eater, by any stretch of anyone's imagination!)
So enough jibber-jabber already! Let's get to the recipe!
Saute chopped onion, garlic, and celery in a little (or a lot…) lard, butter, or olive oil. Most of the time, we don't have celery in the house (Mom despises celery!) but this time we had some for something else, so I stole a couple stalks. I'm just saying that the stroganoff is still outstanding without the celery, if you don't have any! Oh, as far as amounts…1 onion, a couple (or a few) cloves of garlic, and 2 stalks of celery…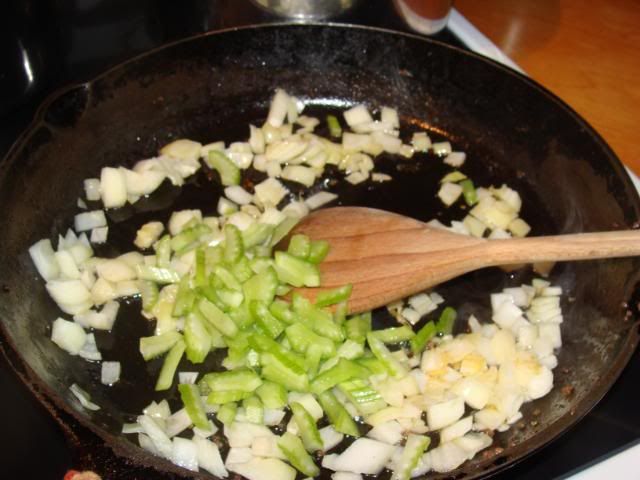 When all of your yummy veggies are sauteed to your liking, add 2 lbs of cooked and seasoned ground meat. I say ground "meat" because you're really supposed to use beef (hence the title) but we don't have any beef right now, so I used our ground pork. Be sure to season the meat appropriately…whether with salt and pepper, or with my favorite, Tony Chachere's…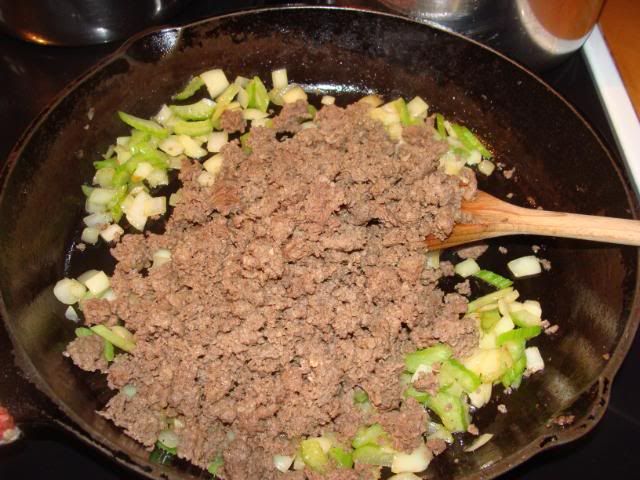 Mix 1 1/2 cups of sour cream with 2 Tablespoons of flour. You can also use half sour cream and half yogurt, or play with the ratio until you're happy. Because we all know that a good meal isn't all that great unless you're happy with it. Hm…that sounds like something you'd read after cracking open a fortune cookie…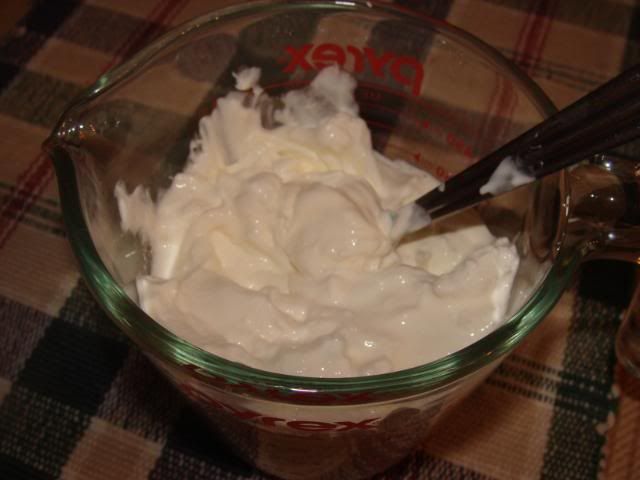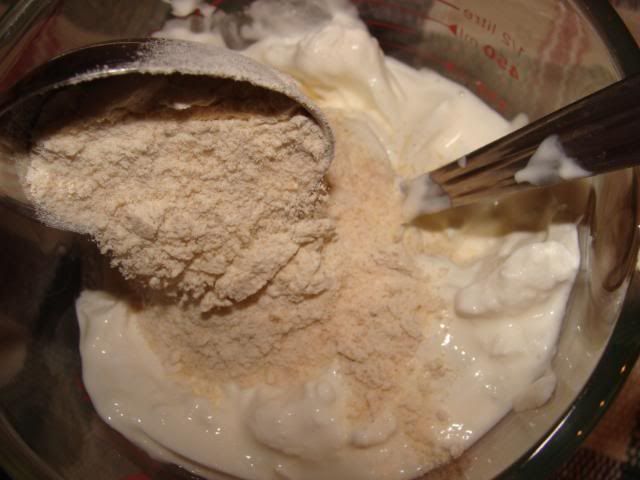 Add 2 cups of fresh mushrooms to the meat and veggie mix, and let that cook until the mushrooms are nearly done.
And add the sour cream mixture to the stuff on the stove…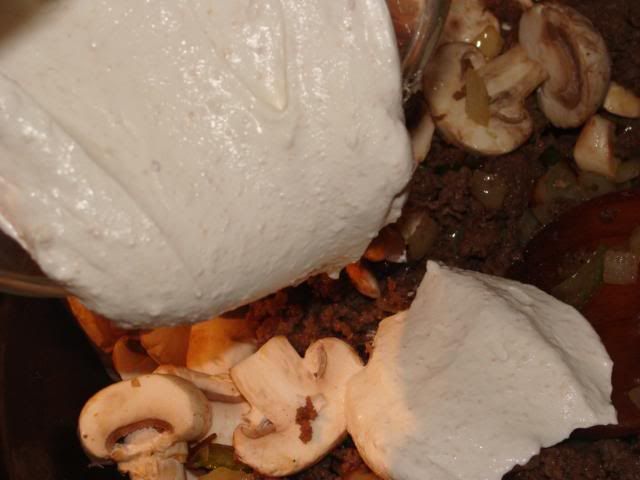 Now, I didn't get pictures of cooking the noodles, but you're going to need some cooked noodles as well. I used rotini…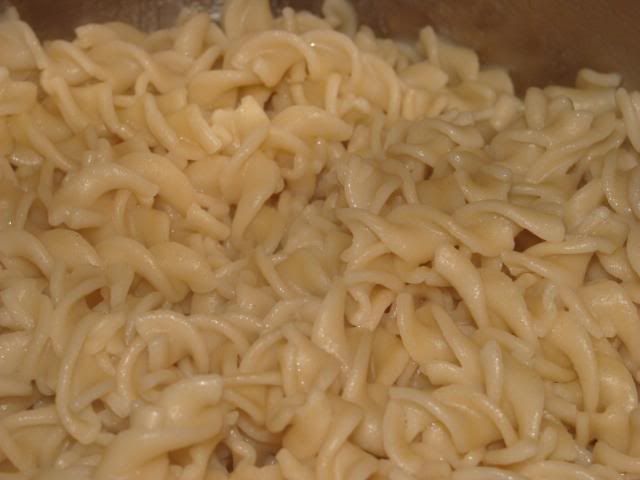 You can also add a sprinkling of parsley. I can't wait to have our fresh parsley!!!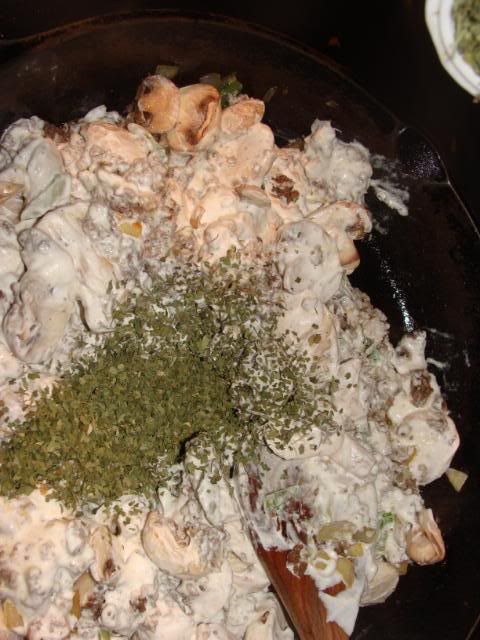 And your finished meal! I just cannot tell you how good this is!!! It's really fast and easy, too…something you can throw together in a hurry!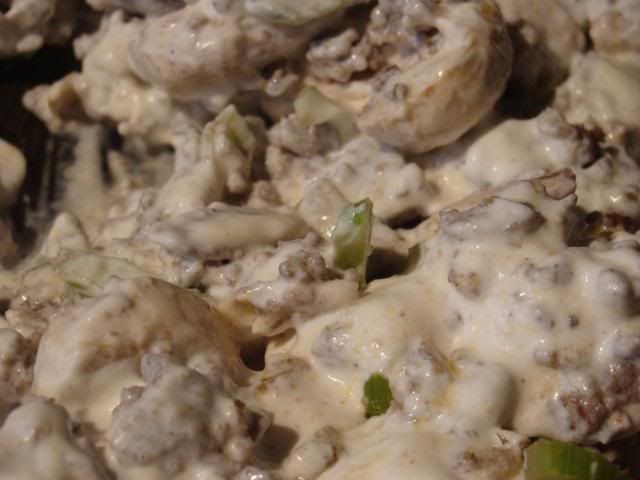 Enjoy!
In other news, I have a cold and just sold my most expensive reenacting dress for about half of what it's worth. I am therefore
slighty
irritable.
I have, however, lost about 10 pounds in the past several weeks. I am therefore
slightly
less irritable than I may have been otherwise.