So, I decided to go through some of my stuff, clean up, and organize this morning. For those of you who haven't been to our house, I don't really have a room. I have a section of a huge room, and it's sectioned off with sheets hung on wire storage racks and on the backs of bookshelves. Not the greatest arrangement, but it's what we have and it works. See, our house is really only two bedrooms. The original master bedroom was the entire width of our double-wide, and had double doors. We took down the double doors and I have a little less than half the room, and the boys share the other side, with one twin bed for Dave and a bunk bed for Titus and Philip. So I have two regular walls, and then one wire-storage-rack-covered-with-sheets wall and one back-of-the-bookshelves wall. It's hard to explain! Anyway, my whole area is pretty small, and I have a full bed, a dresser, a chest of drawers, the old china cabinet I refinished, and my sewing cabinet with a chair. Needless to say, it gets a little cramped in here. My dresser is full of clothes...actually, it was overflowing, but I'll get to that in a minute. My chest of drawers is one of two I used to have before I bought the dresser. I needed the storage, so I kept it...the top drawer is just miscellaneous stuff...nail polish, some hair stuff, that kind of thing. The rest of it still needs going through....there are old workout clothes, swimming clothes, sweatshirts, hate...basically, stuff I don't need very often. The china cabinet I refinished...well, the top has three shelves and has a glass front. The bottom is a cabinet with doors. In the bottom, I have a bunch of bags, ones I've made, and ones I bought (tote bags.) That's also where my laptop case is, and it's where my purse goes if I'm good enough to actually put it up instead of leaving it at the end of my bed. :) The shelves of the china cabinet are FULL of fabric, folded and stacked rather neatly. Well, mostly rather neatly. My bottle of Modge Podge is packed in there as well, because I couldn't find any other place to put it. My fiddle hangs on my wall, my guitar leans on the wall under it, beside the dulcimer I'm still trying to sell because I never play it. The classical guitar my grandpa gave me (his first guitar) sits on top of the china cabinet, along with a couple other miscellaneous things. My sewing cabinet...well, it's always open...the door swings open and a table-top rests on it. The door is full of storage, and it's full of sewing stuff. My sewing machine always sits on the table-top, as well as my computer, at this present moment. My sewing tote also sits to the side, and my colored pencils (for sketching designs) are here as well. The tiny cabinet on the other side of the sewing cabinet (under where the sewing machine sits) is full of fabric too. The chest-of-drawers is to my right and my notepads (sketching and otherwise) are on top of it (it's just about 3 feet tall) as well as 3 handmade baskets. There are two more baskets in the floor behind me (between me and the bed behind me) and one of them is sitting on the two rubbermaid containers full of stuff I didn't sell at the craft fair. (I have so many baskets because I keep making them...I go to basket classes once a month with Jacob's mom and I haven't gotten rid of any yet. This could be bad.)
By the way, I sold $140 worth of stuff at that two day craft fair. Booth space was $175.
Ok, back to my room...I have a ton of stuff (before we moved I had my own room and closet...I share a closet with Dave now too.) And, it's really a bedroom and craft room all combined, in this tiny space. I have yarn everywhere, fabric everywhere, with a bed and a few instruments thrown in for good measure! Oh, and my mandolin is even on the boys' side of the room! I forgot about that!
So, this morning, the cry of my unorganized space was driving me crazy and I had nothing more pressing to do, so I tackled it. But see, it's so much more than just cleaning up! A couple weeks ago, I went shopping at the thrift store for shirts. I buy nice T-shirts, but then I cook in them, without my apron on (big dummy) and get grease splatters and the like on them. So, nearly all of my t-shirts had splotches on the front. I bought several new (new to me) shirts a couple weeks ago, but still hadn't gone through my old shirts yet, so I had a stack of shirts that didn't have a home. So first thing, I emptied out my shirt drawer, went through everything in it, got rid of a bunch of stuff, threw some stuff away, folded everything nice and neat, and returned the shirts that were staying back to the dresser. But then it would be silly for my shirt drawer to be nice and organized with only things I wear in it, and my other drawers still be messy and cluttered with things I no longer wear, wouldn't it? So, I did my other drawers as well.
Then I noticed all the yarn spilling over and out of everything it was "contained" in. So I got to work on that next. I really think I could start a yarn shop and not have to buy any inventory. That actually might be wise. Anyway, guess what I found?
Five different WIP! (Works in progress) FIVE! See?
The blue variegated on the left is a baby blanket, The green in the bottom middle, a scarf. The turquoise is a sweater I've been "working on" for a couple years now. Above that, the peach variegated is a baby sweater. The top left is a purse. I think I have a disorder. Maybe a side effect of said disorder is naming things in counter-clockwise order?
So, I have determined to tackle getting these things completed. The turquoise is soooo very close to being done...all I have left is the button and buttonhole bands on the front, and seaming it all together. That's just pitiful! I didn't even think about all this stuff a couple weeks ago, when I whipped out this new shrug/bolero in less than a week. (Sitting at the craft fair not selling anything made for good knitting time)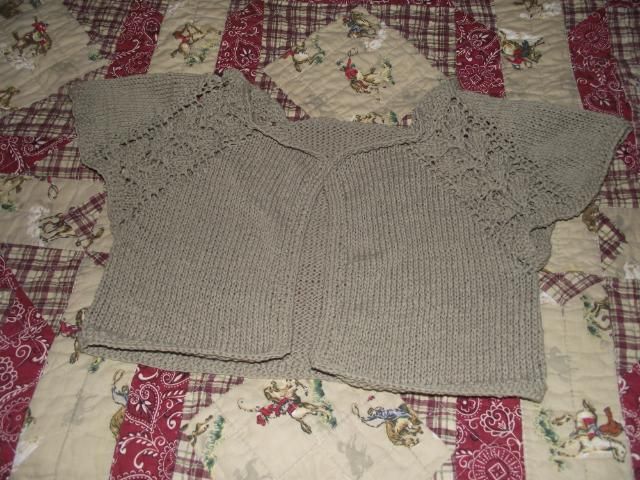 I haven't had a chance to wear it yet, but I'm loving shrugs right now. I wear the
one I crocheted
all the time, and I bought enough thread to make two more..one pink and one black, just like the cream one. After I finished my other WIP I mean... ;) This knit one here is slightly greenish...you can't really tell in the picture. I'll have to get a picture when I wear it.
So, I organized all of my yarn, placed all my things to work on in a basket together, and then tackled a basket full of fabric. I was able to reorganize my fabric in the china cabinet so that all that fabric would fit in there as well.
I still have way too much stuff (hope Jacob doesn't see this...;) ) for my little space, but at least now it all has a place. Sorta.
Now I need to go through my closet and weed out some stuff in there. Yay.