By special request, I pulled up this recipe from my archives. I can't comment on it much right now, except to say that I sorta like packaged tortilla shells now. Things change. :) This was originally posted September 2010
A couple days ago, I was dying to make something different for supper. It seems like we get stuck in a rut sometimes, and everything we make tastes the same. I guess maybe it wouldn't seem that was to someone from the "outside" but it does seem that way to us. I had a pork roast layed out to thaw, but had no plan for it yet, so I looked around online for a bit (yes, we have internet again now) for new ideas. And here's what I came up with!
Pork Enchiladas are yummy (Dad's still talking about them…) and these took only minutes to make. Yep…just minutes. 210 minutes, to be exact. So if you want to make these, I suggest starting in plenty of time! But then again, I guess there are different ideas of "homemade" food. I believe most people would consider cooking the meat and veggies, wrapping them in packaged tortilla shells, and covering them in canned enchilada sauce to be cooking homemade food. That's not me, though, or my idea of homemade, so here's what I did!
To start out, I felt like I needed another recipe for corn tortillas. I used to make a different recipe that the one I've posted before, and it had cornmeal in it, but it was really a pain to make. The dough wasn't dough at all, but rather more like batter. You would pour it into a hot skillet, but then the first batter to hit the skillet would be too done before the edges were done, and more painful side effects that made the process very unpleasant and aggravating. I haven't made them ever since I started making this great recipe.
(Sorry...broken link for an old recipe...will work on it!)
However, my standard recipe has no cornmeal or corn flour in it, and I really felt like I needed a corn tortilla for enchiladas, After researching a bit, I found a recipe, and I made it, taking pictures along the way for all of my fine blog readers. You readers of my fine blog. You fine readers of my blog. Fine, you readers of my blog. Ok, moving on…
It was a complete and total flop. I made the corn tortilla recipe, and they were impossible to roll out. You think I'm kidding?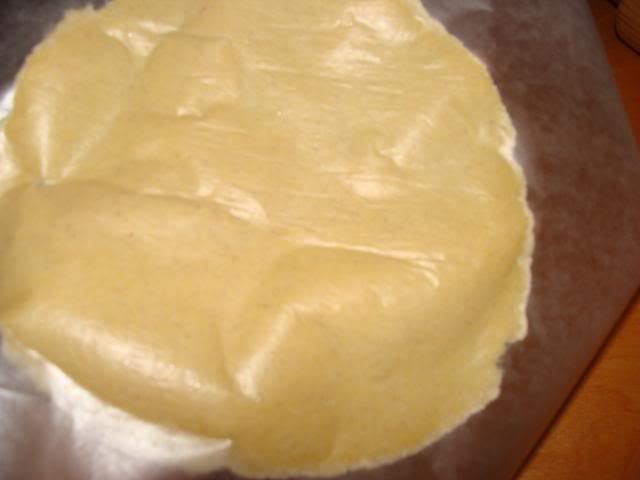 I'm glad I started in plenty of time, because I had to abandon all hope of rescuing this mess…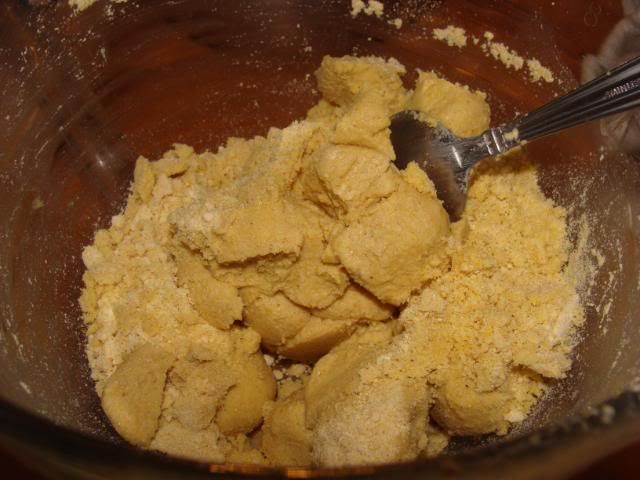 And I "whipped up" a batch of my normal recipe, only I used half flour and half corn flour. All I had was cornmeal, and from what I read online, I was worried it wouldn't taste right, so I ran a couple cups of cornmeal through the grain meal so I would have corn flour.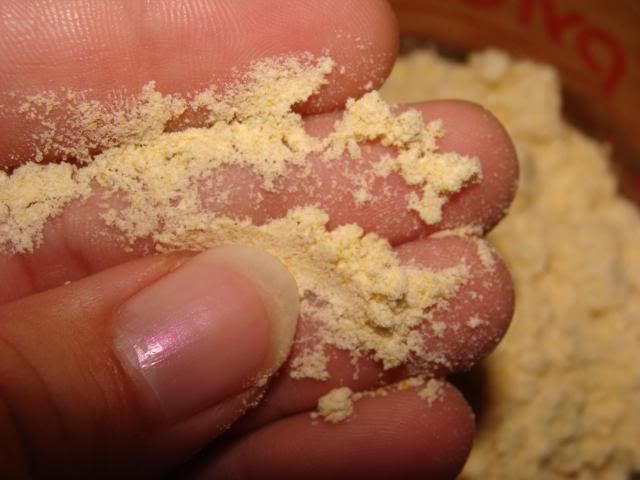 Ok…onto Pork Enchiladas! I used a pork roast, and cut it into thin strips. Due to our labeling system and knowledge of butchering (or the lack thereof) I don't know what cut of meat I used…just a hunk of "Boneless Pork!"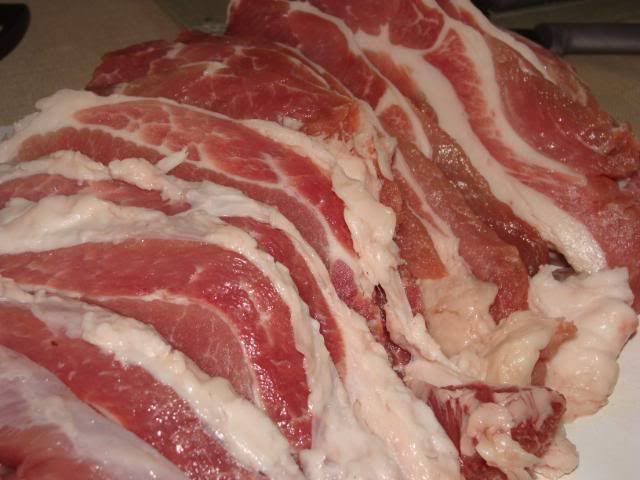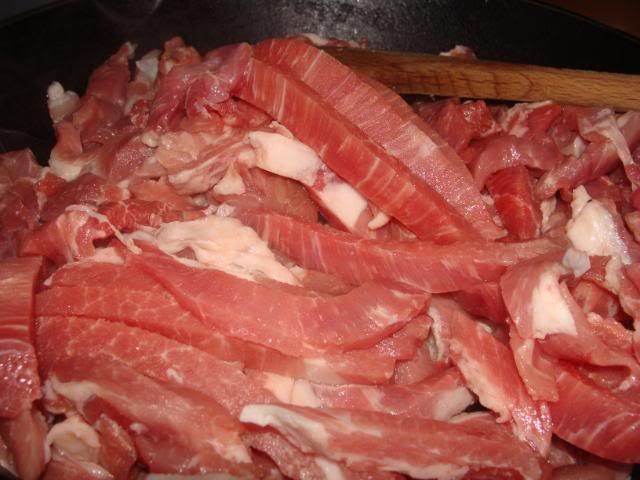 A couple of handy kitchen tips:
It's easier to cut the meat if it is still a little frozen…
ALWAYS use a VERY sharp knife. The sharpness of said utensil is essential to the happiness and wellbeing of the chef.
Now see…you should always read all of my blog, because you never know when a few tips such as the ones I've just given will be hidden in the depths of a post. And I know you certainly don't want to miss them!
I browned the pork quickly, in my cast iron skillet. I seasoned it a little with Tony Chachere's, then added a little water and covered it. I wanted it to simmer for a long time so it wouldn't be tough. If it were tough, my mama might kill me.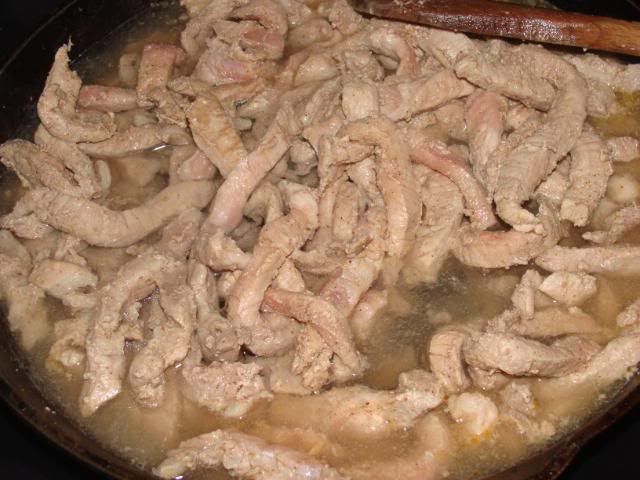 Now I assembled my spices for the enchilada sauce. The recipe I was loosely following called for chicken broth, for the sauce base, but I haven't had a chicken in a few months, so there was no chicken broth to be found. I based my sauce in water, and it was still good…
I measured all the different spices into this bowl, so it would be easier to add them to my water. The spices are as follows:
1/2 cup chili powder
2 tsp ground cumin
4 tsp garlic powder
1 1/2 tsp salt
1 pinch cinnamon
1 tsp sugar
I have no doubt the quality of spices has a direct effect on the taste of your sauce. Most of the spices I used came from
Mountain Rose Herbs
.
You need 4 cups of boiling water. Your goal is to keep the water boiling while adding the spices, and to add them slowly, to prevent clumping.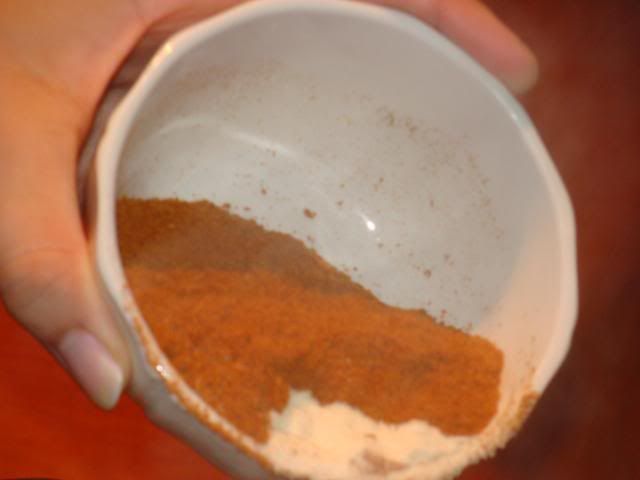 Whisk vigorously the whole time you're adding the spices, and continue to whisk to dissolve the spices. Continue to whisk and boil for 3 minutes.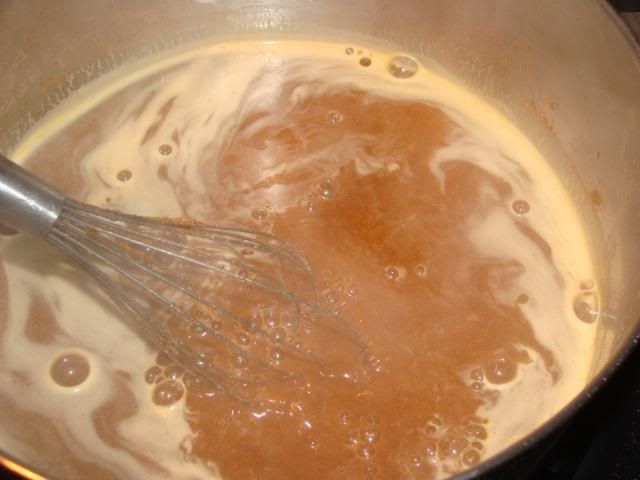 Mix 10 TBS water and 10 TBS flour together. adding the flour slowly and whisking to keep it smoooth. Ideally, this would be done while you were waiting for your water to boil.
Add this water and flour mix to the boiling water and spices mix, slowly while whisking like crazy!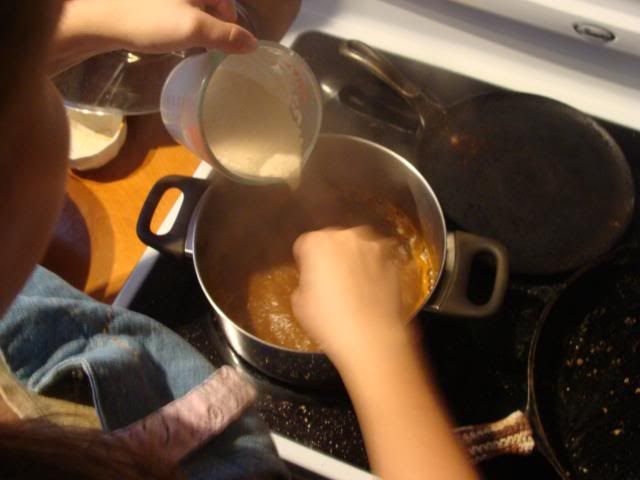 Continue to whisk, and keep it boiling for 1 more minute…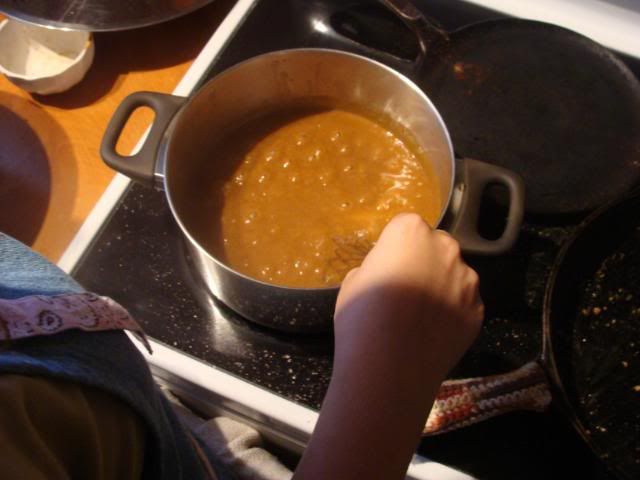 Now you can set this aside and finish prepping the meat.
I stir-fried onion, bell pepper, tomatoes (skins removed and sliced,) and crushed garlic, and then added the pork…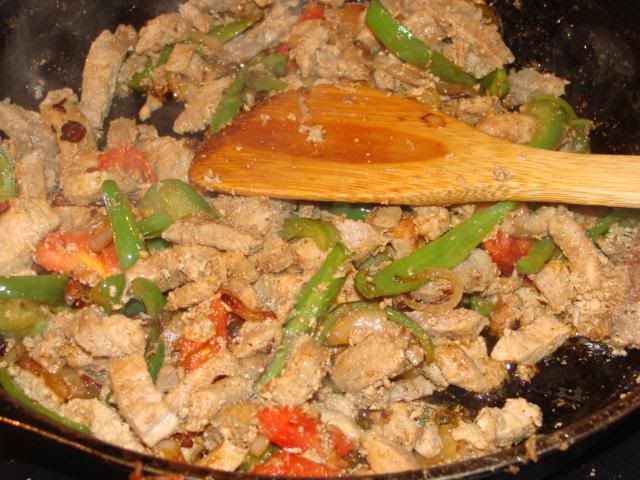 And then added a swig or 2 of Worcestershire sauce, just because I thought it needed it!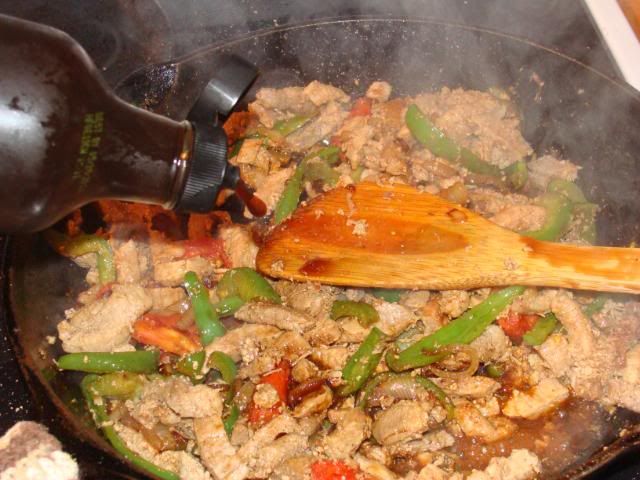 Now that's ready, so I turned my attention to the tortilla shells. I read that you had to fry them in oil for a split second to make great enchiladas, so that's what I did. I heated enough lard to dip them in…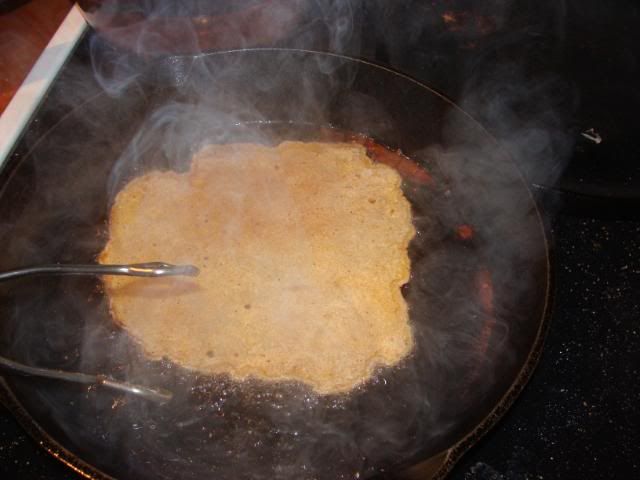 And when I said "split second" I really meant it. Don't leave them in long at all! And this is the point where I smoked the house up very nicely. We ran around opening windows and getting the fans going. If I could've cooked crawling on the floor I probably would have. I guess it's the flour from my shells that burns and smokes in the oil. Maybe store-bought shells wouldn't be so ornery.
Let it drip a bit…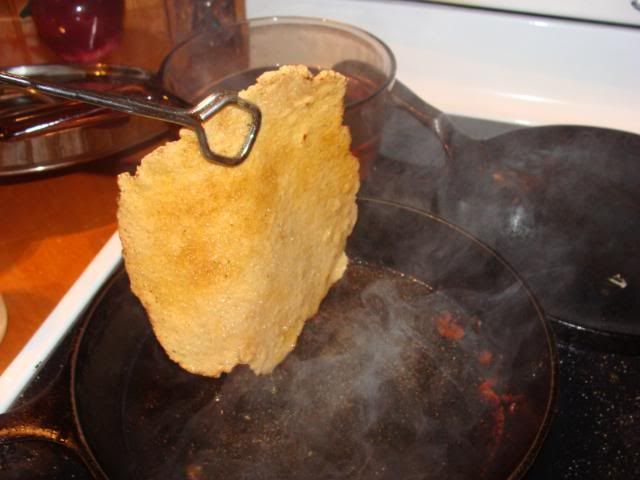 And I drained them a little on a paper towel…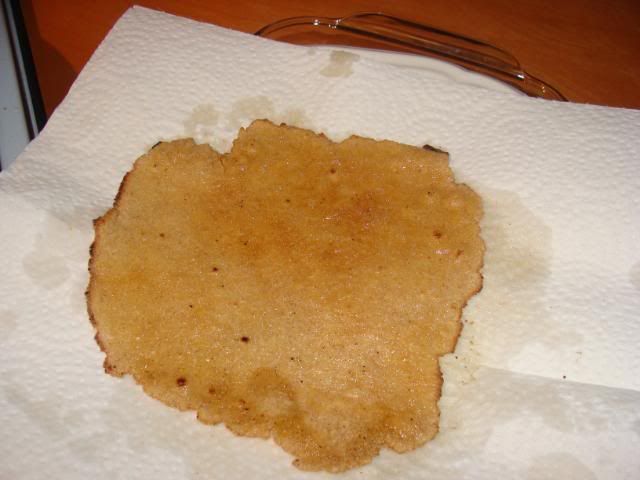 Place the shell in a casserole dish…
Fill with meat and veggie mix…
Roll up (burning your fingers in the process)…
Repeat 'til your dish is full, or until you've made as many as you need…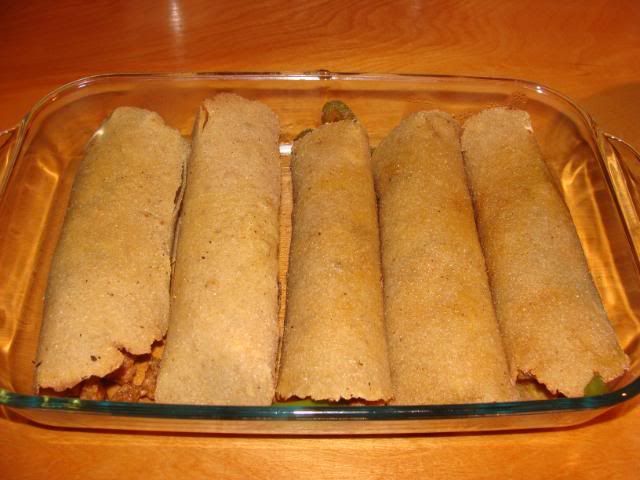 Spoon plenty of your enchilada sauce over them…
Enchilada sauce is the same color as the "pecan" stain that we stained our counter with. That's interesting.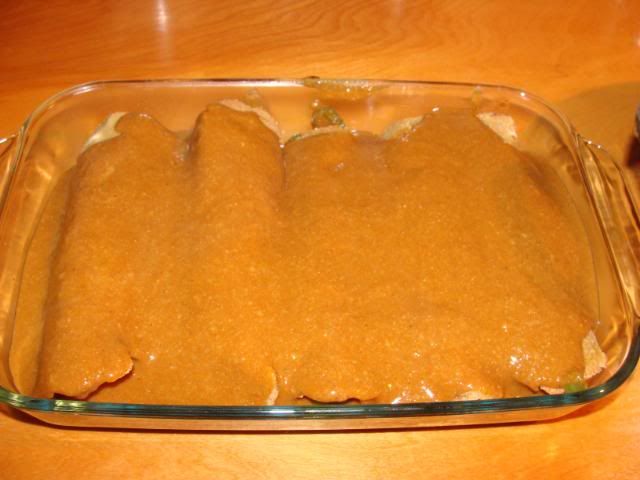 Top with a generous sprinkling of cheddar cheese…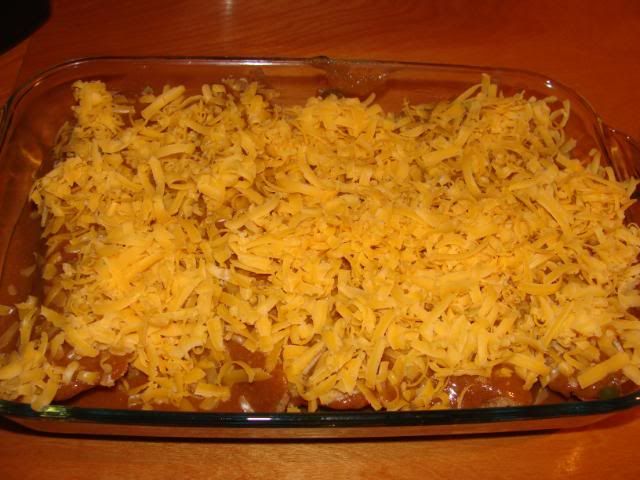 Pop in the oven (at 375* or so) until the cheese melts…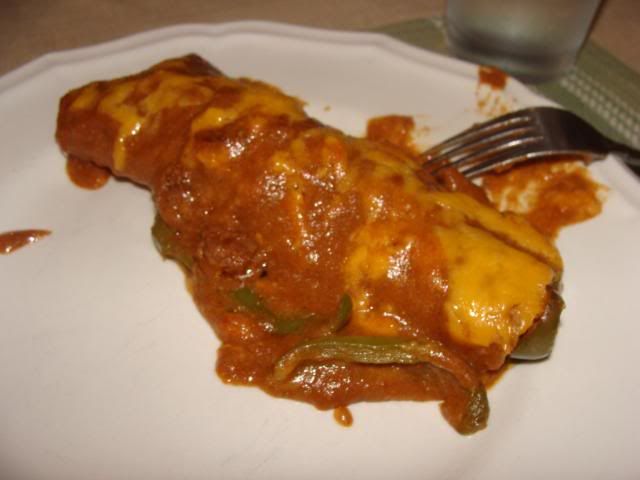 These were pretty good, if I do say so myself! If I had planned a little better, I would've had plenty of sour cream, salsa, and cilantro to serve with these enchiladas. That's what I get for deciding meals on a whim!
~kayla